Announcing:


The Annual European and Japanese Motorcycle Show

Saturday, March 28th, 2015

Santa Clara County Fairgrounds

San Jose, California




Click Here for more info.
---
Next Events:
Quail Motorcycle Gathering
Date: Saturday, May 17, 2014, 10:00 am – 3:30 pm
Carmel Valley, CA
La Ducati Day 2011
Sunday Oct. 9th, 2011
8945 LaHonda Road, Highway 84
LaHonda, CA
La Ducati Day is put on by NORCALDOC (Northern Calif. Ducati Owners Club)
Featuring:

All Ducati bikes welcome: Racers, Modern, Vintage, Custom


$15 entry, proceeds benefit the La Honda All-Volunteer Fire Brigade
Saturday March 26th, 2011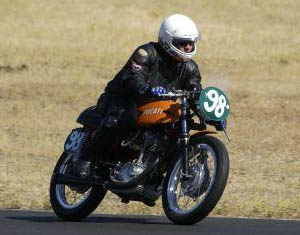 4th Annual European Motorcycle & Scooter Show, Santa Clara County Fairgrounds, San Jose, CA
INFO at www.eurobikeshow.com
The Ducati Vintage Club with the Japanese Heritage Motorcycle Foundation is presenting the annual European and Japanese Motorcycle & Scooter Show Saturday, March 28th, 2015 at the Gateway Hall, Santa Clara County Fairgrounds. You will be treated to rare single and multi-cylinder road and rally racers to the brute force of multi-cylinder beasts. Restored bikes, custom bikes, new exotics, rare collector's items, and everything in between. All European brands competing together under one roof, united in diversity unique in beauty.
Additionally, the Fairgrounds is hosting several other motorcycle shows and events:
In the same building, the 3rd Annual Asian Motorcycle and Scooter Show (allen@ebold.com), and other Fairground venues such, the annual Clubman All-British Show and Swap as well as Pro Indoor Short Track Racing
Annually and since 2005, the Ducati Vintage Club at the La Ducati Day venue, we put on the DUCATI and Motogiro CONCORSO motorcycle exhibition in LaHonda Calif. each October.
The Ducati Vintage Club also is the promoter and host for the Annual European Motorcycle Show and Swap, Santa Clara County Fairgrounds, San Jose, Calif. The inaugural event was on March 29th 2008, the 2nd on March 28th 2009 and the 3rd on March 27th 2010.
Jul. 2008 Moto Concorso 2008 – Monterey, CA. This show, open to all brands and featuring Italian Racing motorcycles and Motogiro Motorcycles, was part of "The Meet at Monterey" leading up to the MotoGP at Mazda Raceway Laguna Seca. This was a fantastic show with many rare and exotic vintage motorcycles featuring collections from Burt Richmond, Jack Silverman, Fred Mork, Peter Schwerske, John Goldman, Steward Ingram, Hans Mellberg, and more. We also arranged autograph sessions with racers Wayne Rainey, Doug Polen, Frank Scurria, and Joe Leonard.

Cycle World's International Motorcycle Show – San Mateo, CA. The Ducati Vintage Club shared a booth with the NorCal Norton Owners Club, Nov. 2007
---